NEW COLLECTION FINALLY READY FOR ORDER!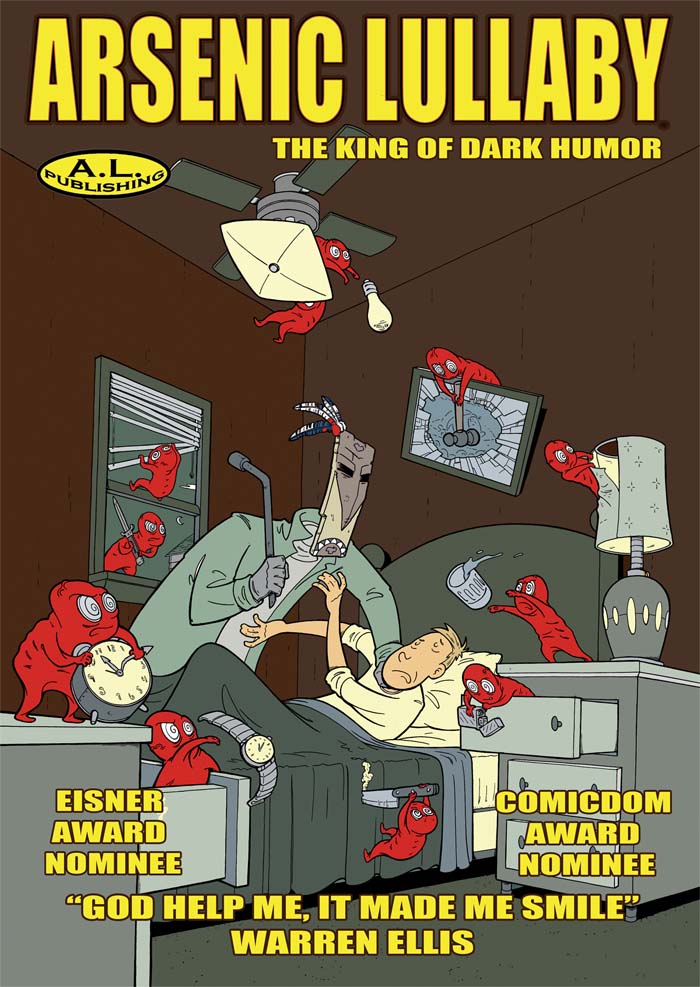 ASK YOUR STORE TO ORDER YOUR COPY
DISTRIBUTED BY DIAMOND COMICS DISTRIBUTION
PUBLISHED BY A.L. PUBLISHING
ITEM CODE - NOV191443
https://previewsworld.com/Catalog/NOV191443

OR ORDER IT YOURSELF HERE
https://www.tfaw.com/arsenic-lullaby-devils-only-friend-gn.html
ARSENIC LULLABY
THE DEVIL'S ONLY FRIEND

A collection of despicable stories for cynical jerks and weirdo's.
IIt is for people with a very dark sense of humor. If you are new to this series, try some samples (below) If you like those...then you need to own a copy.

If you don't like them...
best you leave here and never return.
SAMPLES OF STORIES IN THIS ISSUE...


CTHULHU
Cthulhu awakens to destroy mankind, only to find out he ovweslept and we destroyed ourselves. All but one, very lonely, needy survivor.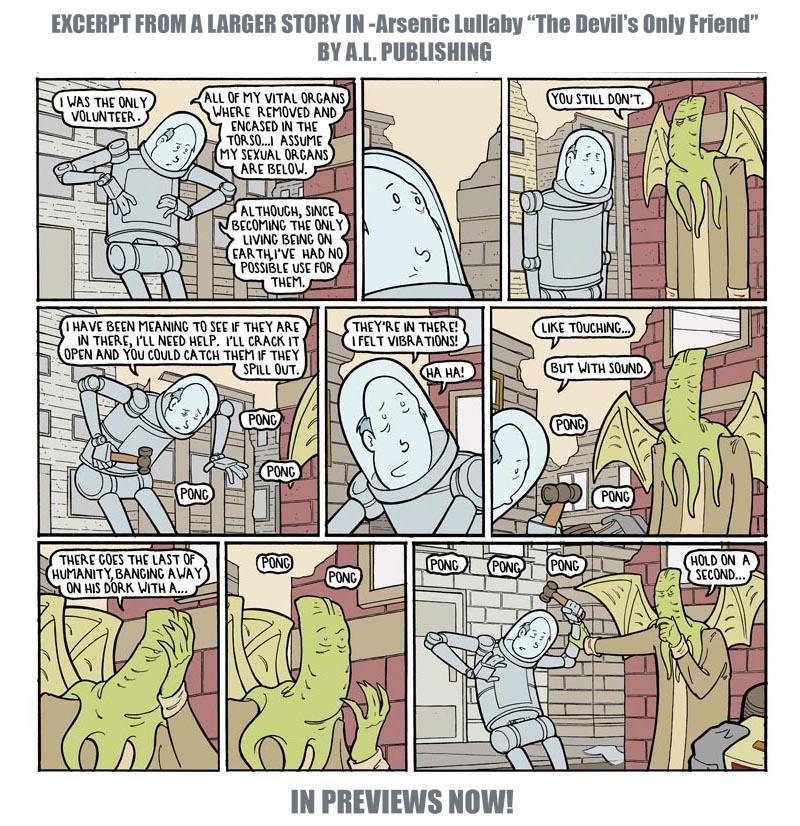 BARON VON DONUT


Corporate Mascot Baron Von Donut recounts another week of pain, misery, confusion and borderline child abuse at Keesler Foods Inc.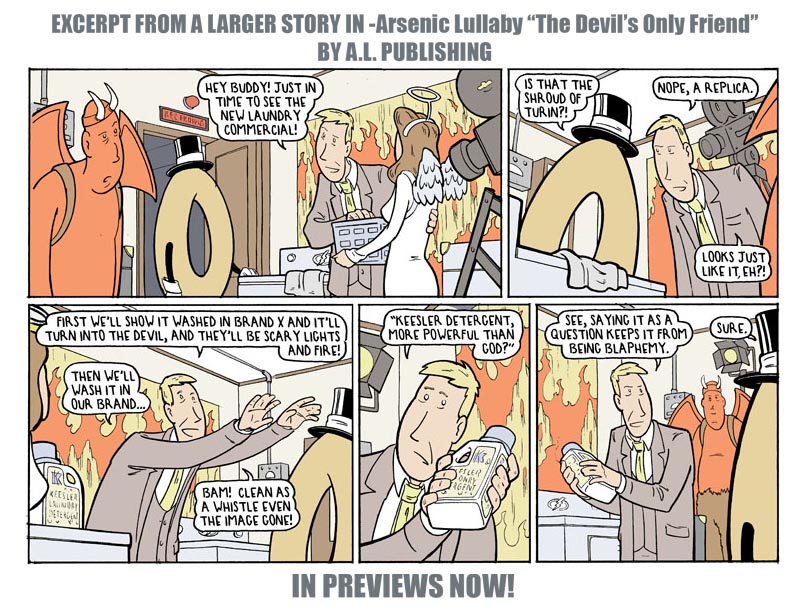 VOODOO JOE


Voodoo Joe, a powerful witch doctor living in the suburbs with a revenge for hire type business, takes on an apprentace. He does his best to train a middle aged professor on how to be evil, while his zombie fetus henchman is less than thrilled with the idea.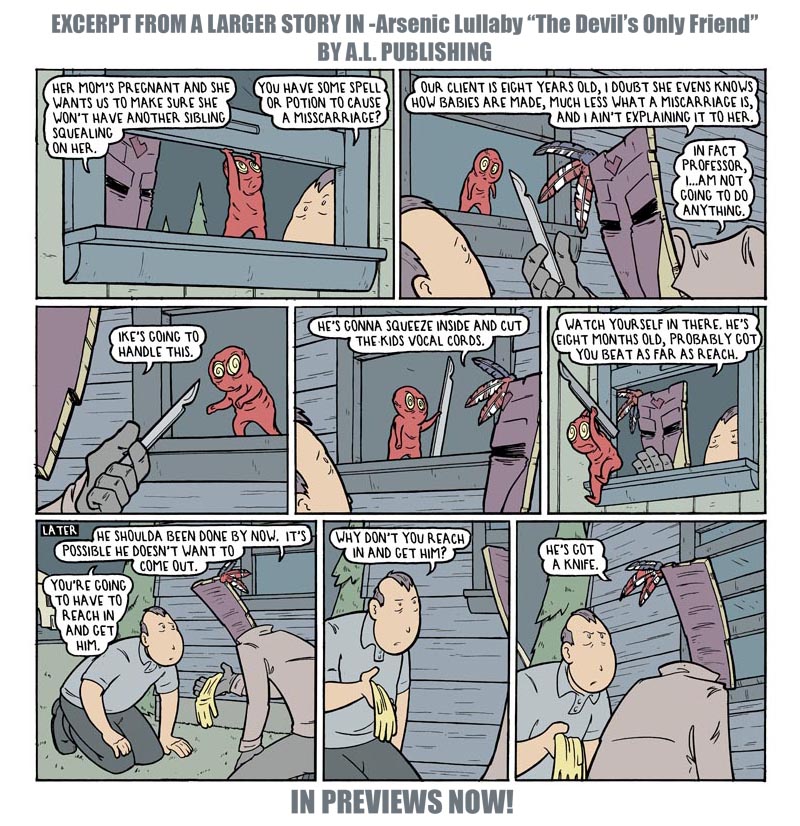 SAM THE MID-LEVEL DEMON


A demon in hell gets a promotion and must haunt Ouija Boards. He didn't know at the time he accpeted the job, that they were bien mass produced and used by every child, and adult crackpot in the continental U.S. Things get very tediuous for him in a hurry. ( Cameo by The Great Duranti)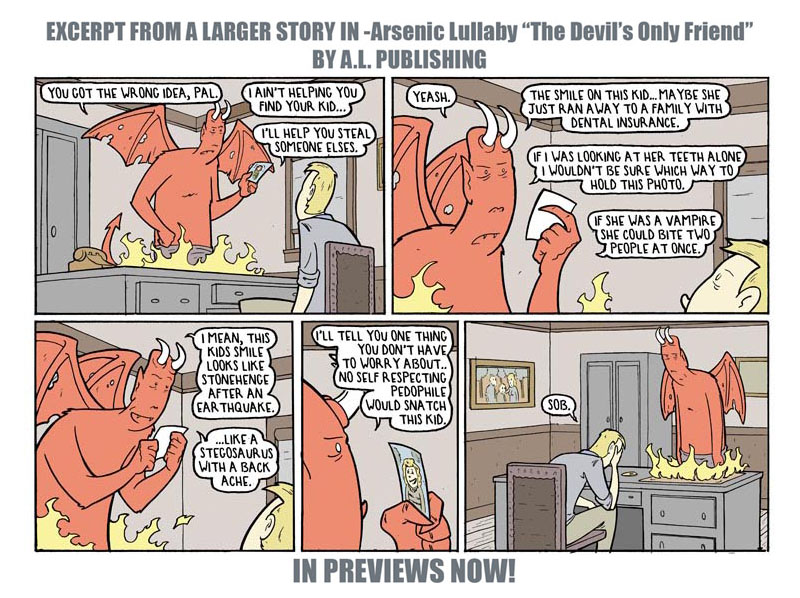 PLUS MANY SINGLE PAGE STORIES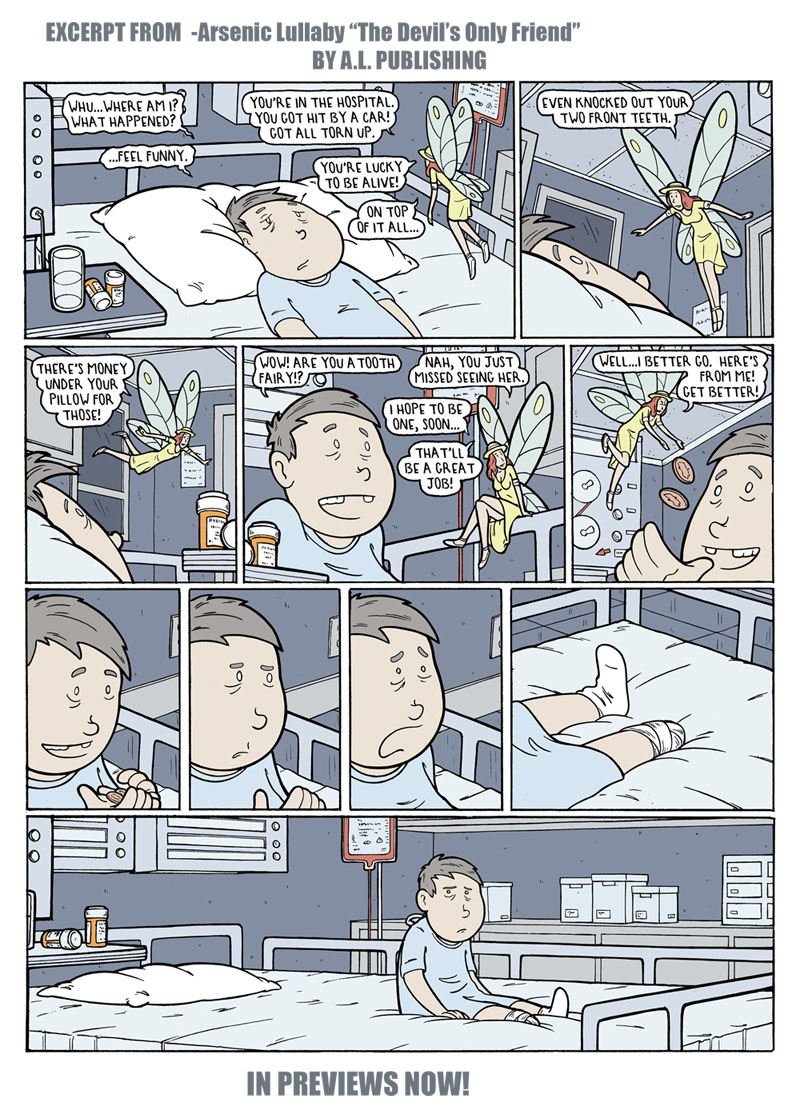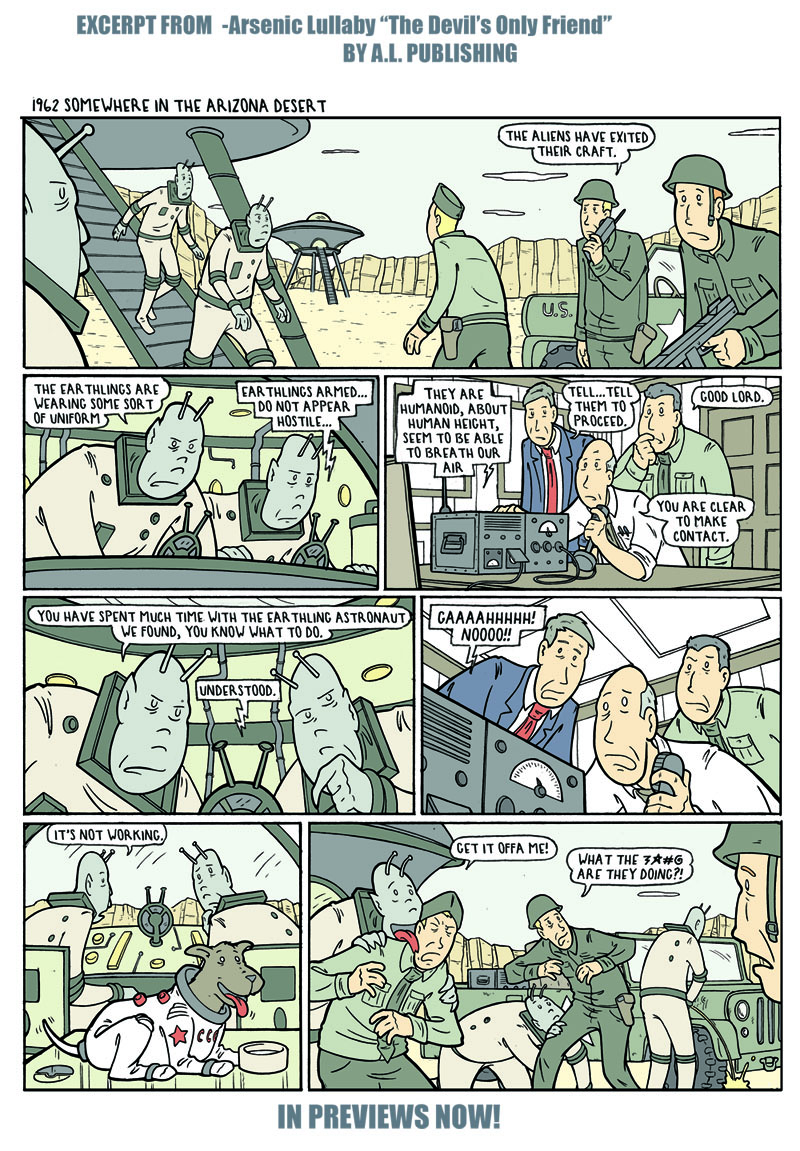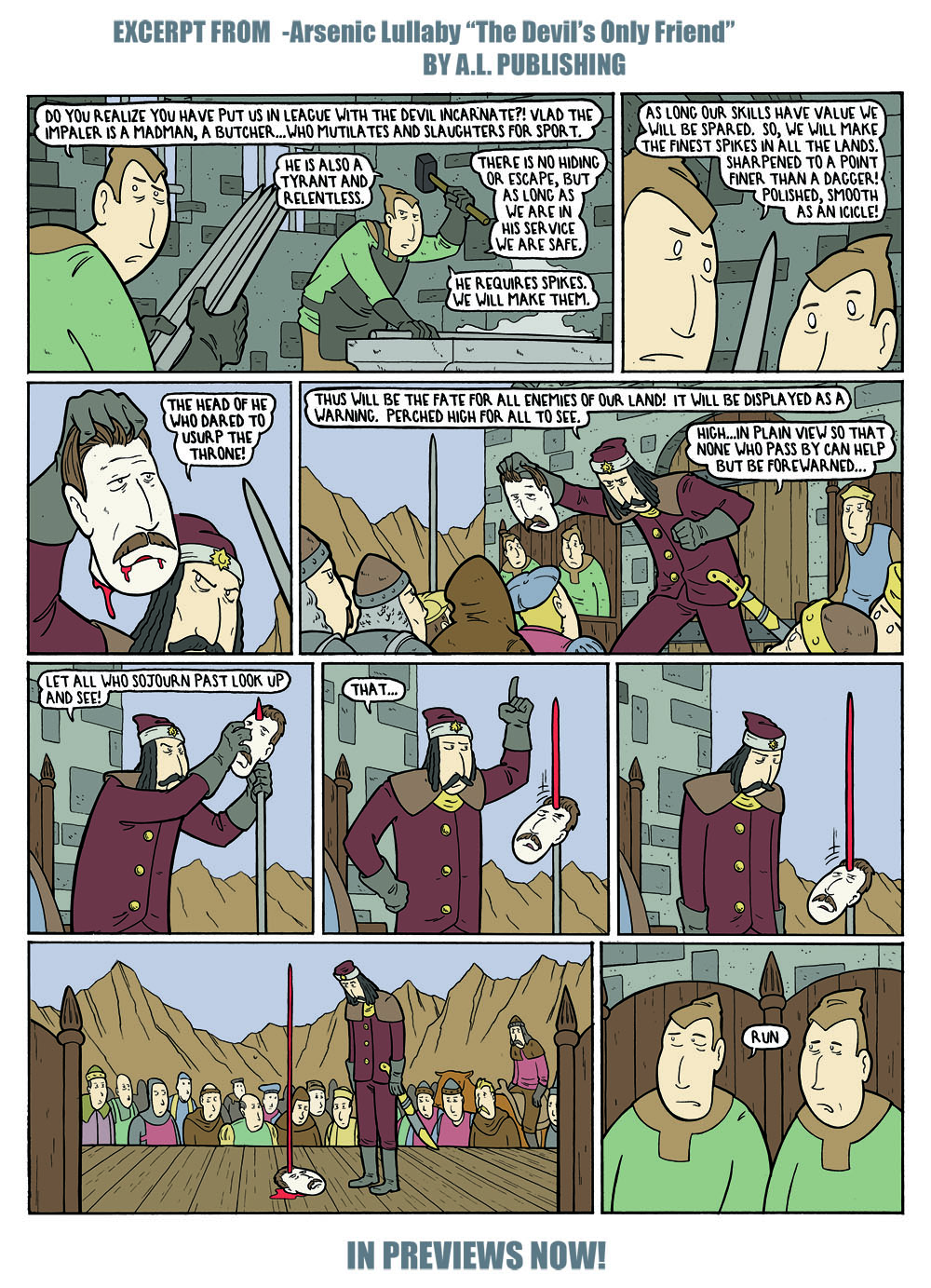 AND MUCH MORE
Time is running out to order yours!



...that's not just advertising jargon...there was a mix up and we didn't even know it was in the store's cataloges until like 4 days ago.
(It's a long story.)

TELL YOUR STORE TO ORDER YOUR COPY!
distributor's link with our book is here


OR ORDER IT YOURSELF HERE