Arsenic Lullaby Museum
HERE IS A BUNCH OF STUFF WE GOT FROM READERS AND FELLOW COMIC BOOK PROS...AS WELL AS A FEW THINGS WE MADE THAT WE KEPT FOR OURSELVES.
HAVE SOMETHING TO ADD TO THE MUSEUM? CONTACT US douglaspasz at arseniclullabies.com
CLICK ON EACH IMAGE FOR A LARGER VERSION
Baron Von Donuts Christmas

EDGAR THE CENSUS AGENT carved in soap

GIANT INFLATABLE FETUS
by us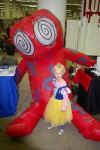 ALIEN CENTAUR BY

TEX BUCKAROO BY

Voodoo Joe by Christine

ZOMBIE FETUS ILLUSTRATION

VOODOO JOE AND ZOMBIE FETUSES
BY TAKI SOMA

OLD MAN HUTCHINSON ILLUSTRATION

VOODOO JOE AND FETUS GUN

BARON VON DONUT doll

ZOMBIE FETUS fuzzy doll

Spot and Joe sculpt

ZIPPO LIGHTER (We made a few of hundred of these before Zippo got wise and took a closer look. here is the lighter and their rejection letter letter)


ZOMBIE FETUSES BY Kristin SNELLING

BARON VON DONUT BY CHRISTOPHER HERNDON
BARON VON DONUT BY

POSTING SOON....
VOODOO JOE AND FETUS ILLUSTRATION BY ADAM SWARD